120W Full Spectrum LED Grow Light
120W LED Grow Light Specifications
| | |
| --- | --- |
| Product Item: | Lightmyleaf LED Grow Light |
| Wattage: | 120W |
| Efficiency PPE: | 2.8umol/J |
| PPF Output: | 336umol/s |
| Coverage: | 3 x 3 ft |
| Power Input: | 100-277Vac, 50-60Hz |
| Driver: | Lightmyleaf |
| Color: | White+Red |
| lP Rating: | lP65 |
| Light Distribution: | 120° |
| Dimming option: | 20% / 40% / 60% / 80% / 100% / OFF |
| Product Dimensions: | 300*300*70mm |
| Package Dimensions: | 320*310*80mm |
| Net Weight: | 2.5KG |
| Gross Weight: | 3.8KG |
| Life Span: | >30,000 hrs |
| Warranty: | 3 years |
| Operation Temp & Humidity: | -20~45℃, 20~95%RH No condensation |
| Storage Temp & Humidity: | -20~85℃, 10~95%RH No condensation |
Package Includes 
✔ 1 x user manual
✔ 1 x hanging kit
✔ 1 x 120W LED Panel Grow Light
✔ 1 x set of adjustable rope hangers
✔ 1 x power cord.
Important note: You can choose different types of plugs when buying your 120W LED grow lights. You can choose from ZA, UK, JP, AU, EU, and US types of plugs.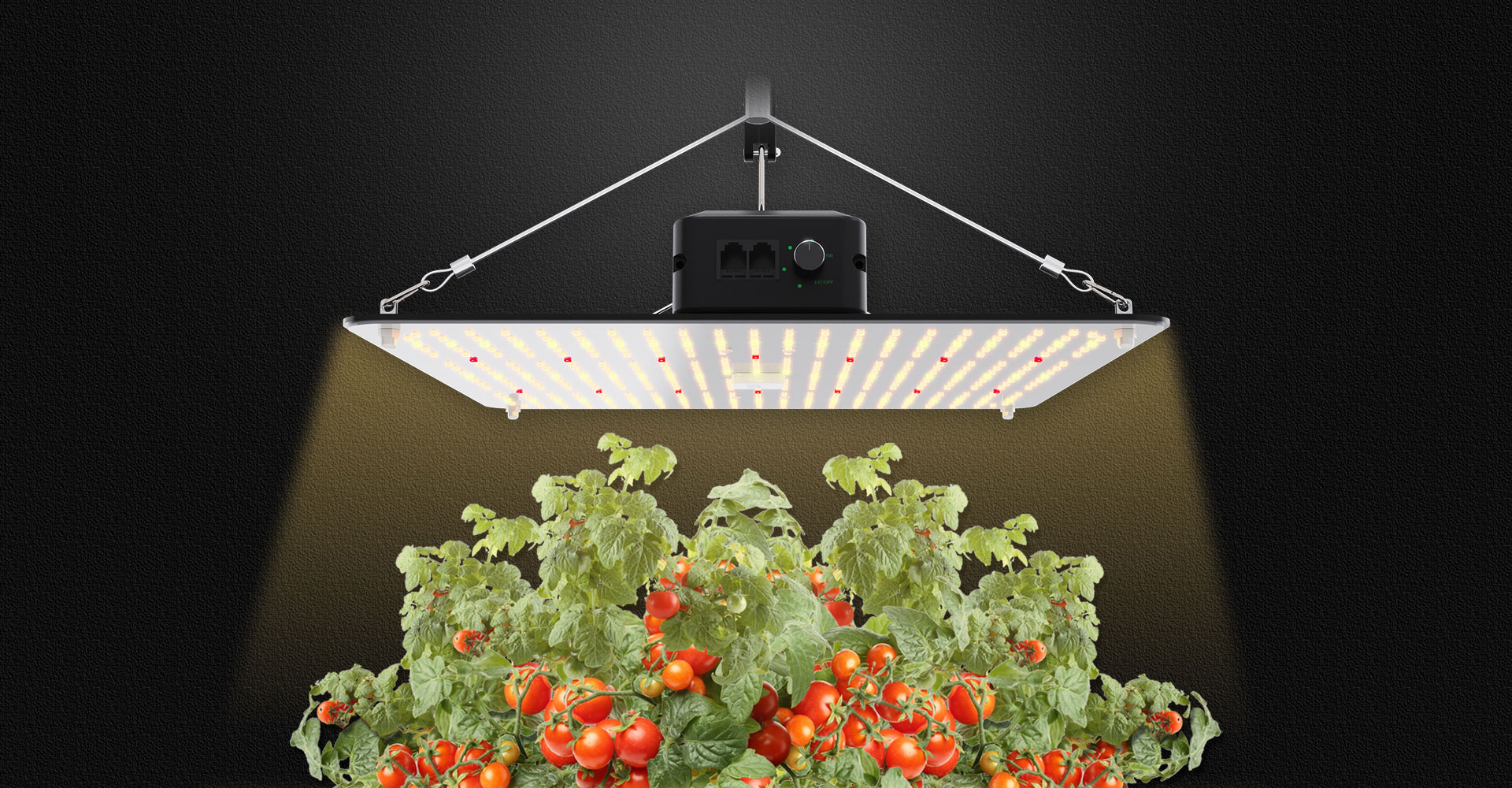 EXPLORE 120W LED GROW LIGHT
Features
✔High-quality Functional Design
Our 120W LED grow lights consist of one piece functional system that helps grow your plants under safe conditions. The design is quite elegant with an easy maintenance system.
✔Higher Reliability & Longer Lifespan
Due to reliable brand drivers and high-quality LED chips, 120W Grow lights have a lifespan of up to 100,000 hours. This ensures the reliability of LED grow lights.
✔High-quality yield Productions & Lesser Costs
Our Lightmyleaf 120W LED Grow lights have higher quality at very affordable prices. It is manufactured using 3030 diodes that ensure high-quality yield production. The reason behind its high quality is the energy efficiency of 2.8 umol/s/W. This is why it also possesses improved light transmittance.
✔Full Spectrum Lighting
Our 120W LED grow lights consist of full-spectrum lighting. It indicates that these grow lights are capable of producing light almost similar to natural sunlight.
✔Ease Of Installation Through Easily Controlled System
Unlike other brands, our 120W LED grow lights are easy to install and control through one single plug. Moreover, it has a flexible & adjustable hanging system.
120W full spectrum led grow light
High PPFD Value and High Efficiency, Powered by
high-quality Samsung 301B 301H LEDs
enable you to increase the output by 30% compared to the old lights
Reducing Your Electricity Bill
A dimmer offers flexibility to reduce the amount of energy for different plants and growth stages.
20% 40% 60% 80% 100% Dimming
Daisy Chain Switch Function
Better airflow, less heat, longer lifespan
Lifting the drivers further away from the heat sink
IP65 Water Resistant Perfect for Wet Locations
Super Slimline Integrated Design,
Save Shipping Cost
Most Easy and Flexible Hanging System Ever
perfect for all-size tent